We are:
"Krybebaands Societetet af 16. november 2006" - The Creeper Track Society of November 16th 2006 - an honourable bunch of five vice-presidents as we're all old enough to do without a president.
The personal links are in bold
Vice President
Henrik Jacobsen
Drives a 1939 CitroŽn T23 truck for everyday use - if not his Traction Cabriolet or a Fiat 600. The CitroŽn Kegresse is just a natural supplement to his other cars...
Vice President
Eugenio Lai
Born in Sardegna - goodlooking man, not searching for a nice girlfriend anymore!!! Also drives a Traction Cabriolet allmost every day in the summertime... and he's President of Traction Avant Danmark.
Vice President
Jens MÝller Nicolaisen
Driving Traction Van and Cabriolet, sometimes the DS, allthough he's married (the wife drives a Fiat 124 Spider). One of the founders of Traction Avant Danmark, club magazine editor through 25 years and author of a few CitroŽn-books too.
Vice President
Jens Nielsen
Being a Goldsmith he is familiar with iron, but the P17 is a bit heavier - so Jens attend many other tasks than the practical work on our car. Taking 100s of nice pictures and rocketing the true spirit of adventure into the rest of the crew - to mention a few...
Vice President
Per Nielsen
This guy is really crazy - owns and drives(!) a 1919 Stanley Steam Car - in tecnically perfect restored condition - and inside his house is a Locomobile Runabout 1904. He is the engineer among us, which doesn't prevent him from making a lot of fun.
Honourable Member
Georges-Marie Haardt
Unfortunately he is dead. But true enthusiasts will know who he is - the leader of all the great croisiŤres by CitroŽn and the right hand of Andrť CitroŽn. Another of his many admirable virtues was never missing his morning shave!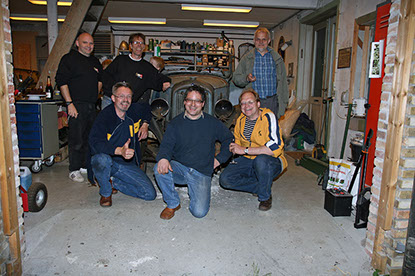 From left: JensN, Eugenio, Per, JensMN, sitting down: Henrik...Sep.30,2007
Per
Is that a "daguerrťotype?" Jens N and Henrik
Jens MN and Henrik
Eugenio and Henrik
We celebrated our 2 years anniversary on Sunday, November the 16th! JensN was abroad at the time, so we invited His Majesty King Christian X.