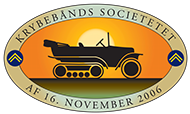 The beginning of all!
From Harvey Smith, who live in Russia we got these pictures from the Imperial Garages as they look now.
Harvey wrote:
The Tsar's garages at Pushkin where Adolphe
Kégresse must have been Head of the Mechnaicla Department and the place where the Kégresse Track
was invented.
Look the beautiful building, with the car ornament, and compare with the old picture.
If someone are interested to see the place the address is: Akademicheskiy Prospect, Pushkin, Saint Petersburg.

Above: The Imperial Family in front of the Imperial Garage at Livadia on "White Flower Festival" day in 1913. Left is an early Delaunay-Belleville ca 1910, right is a Rolls Royce Silver Ghost, one of two Rolls the Tsar owned at Livadia.
Picture from Alexanderpalace homepage.
IIt will be interesting to get the history of the first years before Kégresse had to leave the country. We would like to know more about the imperial garage, the cars of the garage, the Kégresses application on different cars, and finally the escape from Russia!
Citroën Kégresse in Russia?
We know that Adolphe Kégresse lived in Russia when he developed his track system, but was his cars ever sold in this country?
YES!


Denis Orlov from Moscow sent us this fantastic picture. The car is an early P10 (with B14 body), from about 1928-29.
The picture is known to be dating from 1930 and is taken in Shatura, a small town near Moscow, where the largest power plant were built in that period...
Who knows more...? Share with us!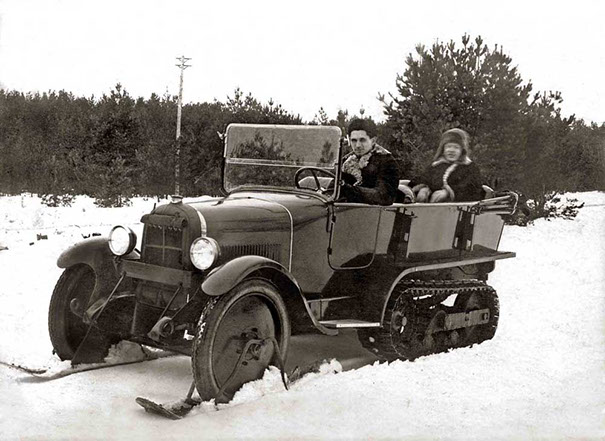 The Lenins Rolls Royce with Kégresse track system is today in Gorki Leninskie Museum.
Chassis number 79 YG.
Foto: Harvey Smith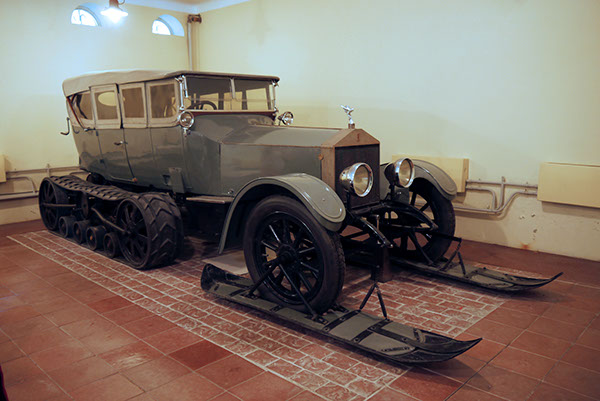 This advert to the right is from around 1928, kindly supplied by Dmitry Dashko from Ukraine.
Below an advert found somewhere on the Internet, note the boogies with 3 small wheels.