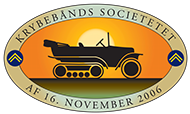 Here some period stuff about Kégresse in Great Britain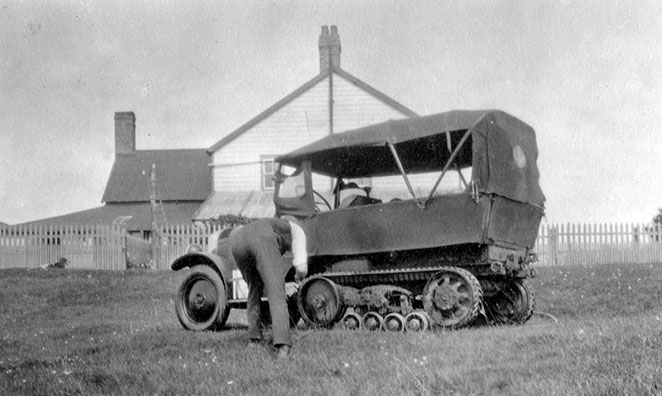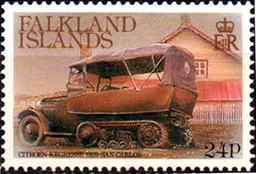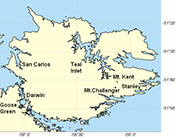 We covered the stamps concerning Kégresses in 2011, one of themes was issued by the Falklands Post service in 1988 as a part of a serie of 4 stamps commemorating the old cars in the Islands. The stamp with the Citroën Kégresse, a model P4T, have the error that the car is dated 1929. The production of P4T lasted from 1924-25.
From the website Falklands biographies we found recently the story how the Kégresse came to the islands. George Bonner lived most of his live in the Falkland Island and drove the family property at San Carlos with considerable success for 40 years until his final retirement in 1930. One of the first motor vehicles to the Islands was a Citroën-Kegresse half-tracked vehicle which had been developed by the Citroën Car Company of France to cross the Sahara. George imported one of these vehicles complete with driver in the mid 20s. Though not particularly reliable crossing the camp, it performed valuable service pulling a plough in subsequent pasture development round the settlement at San Carlos.
There is remarcably similarity betwinn theis picture and the stamp, suggesting the existence of moore photographs of this car, the coachwork is similr to other English cars with the fullsize backdoor.
Exist some remain of this Kégresse?
The region is very isolated, and in such places you just park the car in a corner after it broke down or ended the services. Most probably there isn't even a scrapyard, so the chances for some remains of the car are good. Can somebody look there and tell us?
Text and pictures reproduced by permission of the Falkland Islands Company Ltd.
Aldershot, may 1923
The Queen of England during tests on a Cirtoën-Kégresse K1
We are interested to know more about early years of Kégresses in the United Kindom.......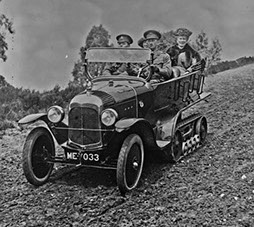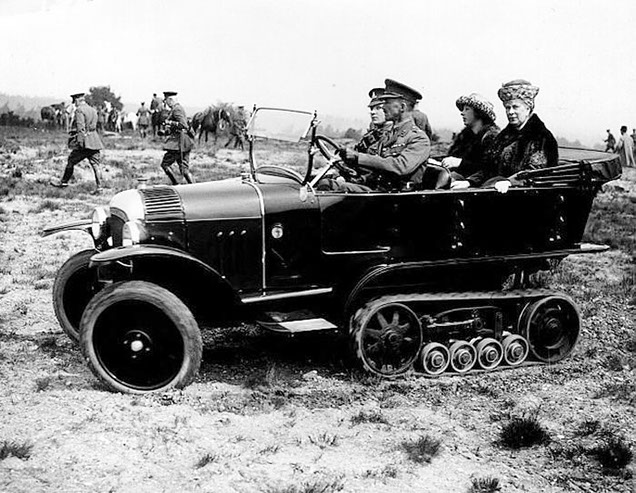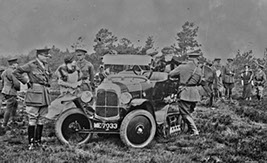 Kégresser at Croydon airport in the thirties
Croydon Airport, located in South London, was the United Kindoms major international airport during the interwar period.
Citroën-Kégresse car was used to moove aeroplanes. We know they used at least three cars, one P4T with flat bed, one P4T with touring body and a P10/17 model with flat bed.
Read all we know about Kégresse in Croydon airfield HERE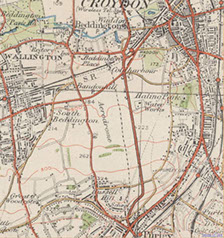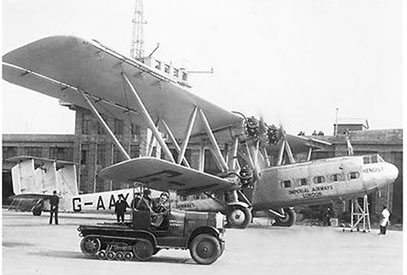 The Citroën-Kégresse stock in Great Britain today before the Brexit.
According to our register there is notice of two others Kégresses, one should be in a museum in Yorkshire and the other one, a P 17D with registration BPU 875, sold at Sotheby in 1994. There is somebody who knows about theese two cars?